Welcome to Auli Himalaya Snow Skiing Course & Packages Tours
HIMALAYAN SKI & SNOWBOARDING SPECIALISTS
If you're a beginner skier and not sure where to go or confused as to how it all works then you've come to the right place. We've put together a guide to help you choose the best beginner course as well your star and how to reach.
Auli India Your Skiing holiday experts in India! This is the top spot to find and book your Auli Snow Skiing winter Course / Winter Resort/ hotel or Skiing Snowboarding Packages in India Skiing Center. No matter whether you are planning a ski holiday break in or a family ski vacation, we are here to give you a hand. Our accommodation partners and our own Skiing Ski School Center provide the best value for your money. Enjoy your visit to Any Skiing Resort (Skiers Paradise)! Gulmarg - Manali - Auli in Indian Himalayas.
If it's your first time skiing or snowboarding then the most important thing is to get your stay or right.  You want to choose a stay that has easily accessible nursery slopes (so you don't have to walk too far in strange ski boots) and also gentle slopes for you to graduate too etc.. Auli is the best place that cover all your needs.
WE ARE THE AULI HIMALAYAN SHRED SPECIALISTS. WE OFFER UNIQUE, ULTIMATE PACKAGE TOURS & SKI LESSON/COURSE.IN THE WESTERN HIMALAYA HOME AND ARE PLEASED TO OFFER A BESPOKE SERVICE THAT LEAVES YOU FREE TO CONCENTRATE ON HUNTING HIMALAYAN SKI PACKAGES & COURSES. WE ARRANGE CUSTOM PACKAGES WITH GUIDES, ACCOMMODATION, TRANSPORT, AND VILLAGE HOME STAYS. IF YOU ARE A BACKCOUNTRY NEWBIE OR A SEASONED SHREDDER, A BUDGET CONSCIOUS BACKPACKER OR A 5-STAR HIGH FLYER, WE CAN TAILOR A TRIP THAT SUITS YOUR NEEDS.
Why us ?
LOCAL KNOWLEDGE AND reliability & YOUR SAFETY -Our first priority
AULI SKIING COURSE 2017
Below are 3 Types of Ski and Snowboard course that we are running from January 2017. Bookings are open and you can confirm your dates and course as soon as possible. We have the ski course from Haridwar to Haridwar as well Auli to Auli. 5 Days, 7 Days and 10 Days Skiing Course are available at Auli as per snow condition.
Ski Course can be modified on Deluxe and Luxury too, for this you have to write us with total number of person and packages/course require and starting point and ending point with mood of transport
The Auli Ski & Snowboard School is an independent ski school based in the heart of Auli Uttarakhand India Himalayas.
Relatively new, its name has become synonymous with a quality service aimed to meet and exceed your expectations
As each individual has different skills and styles to learn, our coaches study each individual's psychology to come up with fresh, out-of-the-box training techniques combined with research to suit and improve everyone's standards. Besides practical skills, we act as a centre of information to impart key information to our trainees like how best to select the various types of equipment for various purposes and training methods during dry or summer seasons to continuously up ones' game.
This intensive course is for professionals who eventually want a winning career in National and International winter games.
Personalized instruction and clear technical advice for each athlete.
Professional commitment to the progression of each individual athlete.
Demanding training sessions that are stimulating and fun.
Constant reinforcement of proper skiing technique.
Technical drills in coordination with dry land training.
Permanently updated technical concepts.
Follow-up and continuity to achieve long-term goals over several seasons.
Technical material such as video analysis and official timing of runs.
Highest quality of slopes, courses and installations to meet all needs.
Instruction on how to prepare and maintain skis.
Recommendations regarding appropriate ski material.
Responsible use of freedom at all ages - our younger athletes learn to be autonomous in their training.
Ski Course at Auli - 5 Days Total 24 Seat

January
Febuary
March

02 to 06

10 to 14

17 to 21

04 to 08

12 to 16

19 to 23

01 to 05

09 to 13

17 to 21

Auli to Auli @ 11499 per head

Haridwar to Haridwar @ 13999 per head
One Week Ski Course at Auli - Total 20 Seat

January
Febuary
March

7 to 13

15 to 21

23 to 29

1 to 07

09 to 15

18 to 24

7 to 13

15 to 21

23 to 29

Auli to Auli @ 14999 per head
Haridwar to Haridwar @ 17499 per head
10 Days Ski Course at Auli - Total 25 Seat

January
Febuary
March

10 to 19

20 to 29

03 to 12

15 to 24

3 to 12

13 to 22

Auli to Auli @ 22999 per head
Haridwar to Haridwar @ 24999 per head
Auli Skiing Sample Skiing Course Program ::--->
Skiing in Auli 6N/7D
Day 1 – Arrived at Lower Auli in the evening - Tea –introduction about skiing – Dinner and overnight stay.
Day 2 – Early morning breakfast – Walk to Ski slope – Demonstration and practice downhill movement, sidestepping, traversing and learn snow plough techniques & practise. Lunch at Auli and Evening tea and Dinner at Auli Ski Rest House/Ski School.
Day 3 – After Breakfast- Revision of snow plough & practise. Introduction of snow plough turn, edges and practise. Back to Lunch and Dinner at Auli.
Day 4 - After Breakfast Practice snow plough turns, edge control and body stretching movements. Back to Lunch and Dinner at Auli.
Day 5 - Breakfast and Introduction of stem turn. Demonstration and practise of stem turn on longer slopes. Back to Lunch and Dinner at Auli.
Day 6 - Breakfast andDemonstration of using ski poles on stem turn and practise. Back to Lunch and Dinner at Auli.
Day 7 - Breakfast and onwards Journey.
Ski Course Include ----> All nights stay at Lower / Upper Auli at Snow Ski School / Lodges / Rest House + Best carving latest Skiing equipments + National / International Skiing Instructor will provide lesson at ski camp auli + All fresh hot veg meals dinner from day 1 till breakfast on last day. A day lift chair car for training secession A level Course or B Level, Twin / Triple sharing rooms will be provided at ski Institute Auli / Lower Auli Ski Training center.
Not Include ::--> Skiing cloths /Ski Shoes + Insurance + Any drinks + Mineral water / cable car ride ticket/ski lifts.
WE ALSO OFFER -->PRIVATE DAY SKIING OR SNOWBOARDING LESSONS IN AULI
Private Lessons Fees| ₹ 2000 per day – Group Lessons Fees | ₹ 1000 per day - With Skis and Skiing Instructor --> Snowboarding adition ₹700
Your First Day
The first day should not be taken as an example of a good day's skiing. You may have to walk up the hill for a few meters and take very short runs until you have the simple skills necessary to ride the lift. Usually you'll start on the flat, to get used to the sensation of wearing skies, then progress to a gentle incline with a run out. An average person can expect to be skiing nursery slopes, or even a gentle beginner's run, by day three. A good instructor will not push you too hard on the first or second day and you really need to stay on the nursery slope to enjoy the learning experience and build confidence: don't rush to get up the mountain.
Your First Week
By the end of your first week you can expect to have completed your first complete skirun - but to help make this happen choose a ski sports center suitable for beginners, one that has a lot of face 1 runs and a reputation for good ski schools. Your first ski trip should be the start of a life-long passion that will keep you fit, take you to many interesting places where you will make new friends and enjoy holidays with old ones. Remember to tip your instructor at the end of a set of lessons; they often love their work - but it's not very well paid
How to carry your equipment
Walking in ski boots while carrying your skis and poles is challenging. It is best to keep your boots unbuckled until you have arrived at the base of the chairlift. The best way to carry your equipment is to put your skis over your shoulder and carry both poles in your other hand.
Ski apparel
Appropriate dress can make or break your day on the slopes. It is worth investing in a pair of waterproof ski pants as jeans get wet and do not allow enough movement. It is best to dress in layers as temperatures can vary from day to day. A waterproof shell is your best bet for a jacket, with a fleece and under layers for additional warmth. Contrary to popular belief, the thinnest pair of cotton socks is essential in boot comfort, allowing for optimal circulation and boot fit. Additional comfort can be achieved by wearing highly breathable clothing specifically made for winter outdoor activities. Neck gators, hats and face masks are also highly recommended.
What to bring:
Ski / snowboard cloths (One can hire at our Ski Shop Auli)
Shoes / boots with good traction 
Snowshoes 
Goggles / sunglasses 
Camel back / water bottle 
Scarf / hat / gloves
Mp3 player 
Warm layers (sweatshirts / long sleeve t-shirts / long underwear)
Lip balm
Moisturizer 
Sunscreen
Pain relievers 
Camera / Video Camera 
Waterproof coat / waterproof ski pants 
Day pack 

A Last Word
Skiing is an amazingly addictive sport, it can take you across the world, and you'll meet many new friends and have some of the most memorable days of your life. Take lessons at every level as it is always possible to improve and there is always another harder snow level to tackle.
Skiing offers something for the whole family, and can be enjoyed into old age. Get the first trip right and you'll probably be skiing for the rest of your life.
Ski Slopes:

Four World Class Ski Slopes.

Details Of Slopes

| | |
| --- | --- |
| 1. 10 No. Slope (White): | For Skiiers |
| 2. 8 No. Track (Blue ) : | For Skiiers |
| 3. Temple Track (Red ) : | For eginers |
| 4. Composite Slope (Blue): | For Skiiers |

Length of Ski Slopes:

10 No. of Slope - 900 Meters.
8 No Slope - 800 Meters.
Temple Slope - 400 Meters.
Composite Slope - 3.1 KM.

Ski Lifts:

Nos. of Ski Lift:

2 (Two) - International Standard.
1. Standing Lift + One New Automic Ski Lift
2. Chair Lift - 4 person chair lift.

Fare of Ski Lift :

Rs. 100/- Per Trip For pole Lift (Standing )
Rs 300/- Per Trip for Chair Lift (Sitting )

Note:

:POLE Lift ( Standing ) from Temple Track to Tower No. 10.
:Chair Lift (Sitting) from Auli to Tower 8.

Cable Car :

·  @Rs. 700/- Per Pax for To & Fro.
·  At a time 25 Pax can be accommodated.
·  It starts from Joshimath to Tower No.10 (Entrance to Gorson Reserve ).
·  It takes 22 Minutes to Gorson .

Special Attraction:

10 to 15 Km Long Cross Country Alpine Skiing by Indian Army.

Note :

Auli is being promoted as an International Destination for SKIING. It has an International standard of GOOD SKI TRACKS & SKI Lifts. Depth of snow - 8 ft to 12 ft (Subject to weather conditions).
WE do also offer ---------> 3 day Ski Package from :
Comfort Ski Packages 9999 per head
Extra comfort Ski Packages   14989 per head
Deluxe Ski Packages 17989 per head
Policy Regarding Packages -Cancellation/No Show/Early Departure
In case of cancellation of tour/travel services – due to any avoidable/unavoidable reason/s – we must be informed in writing. Cancellation charges would be effective from the date we receive advice in writing and cancellation charges would be as follow: 
45 days prior to arrival - 20% of the total tour/service cost
30 day prior to arrival - 25% of the total tour/service cost
20 days prior to arrival - 30% of the total tour/service cost
15 days prior to arrival - 40% of the total tour/service cost
Less than 10 days or no show - NO REFUND
Refund
In regard to refund of unused / unutilized services (which are paid for and cancelled in advance) the refund amount would be worked out on the basis of cancellation policy as described above and the money would be accordingly refunded to the person who has made the payment to us. Please note that the refund process may take 2 - 4 weeks due to banking procedures. If the refund is made to the credit card account OR to Bank account, the bank charges would be debited from the refund amount.
Skiing

in India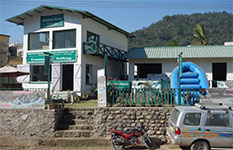 India Ski Adventure Club
Lower Auli
Contact

Us

India Ski Adventure Club

Address: Lower Auli - Auli Joshimath
Telephone: 0091 1389 222609, 222446
Mob:09837685986 / 9412018481
E-mail: skiinginindia@gmail.com